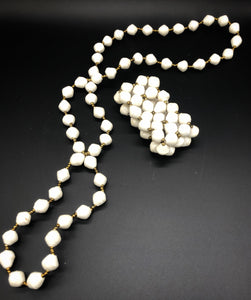 The Patricia Collection is named after one of our ladies whose photo you will find within this collection. Also Patricia's gift of a paper bead is what started Baskets and Beads.  Read about here in the blog :
https://kenyabeadqueen.com/blogs/news/it-started-with-a-gift
Hand crafted medium length white paper bead necklace and stretch bracelet set with gold bead embellishment. Approximate length 18" - made from magazines. Each bead individually rolled by hand.  Stylish and Fashionable for casual or dressy. Fair trade.  
Your purchase empowers women like Patricia to build a sustainable business, alleviate extreme poverty and to support her family with dignity.